System solutions for Water treatment plants Cologne
industrial measurement technology, UV and ozone technology for water treatment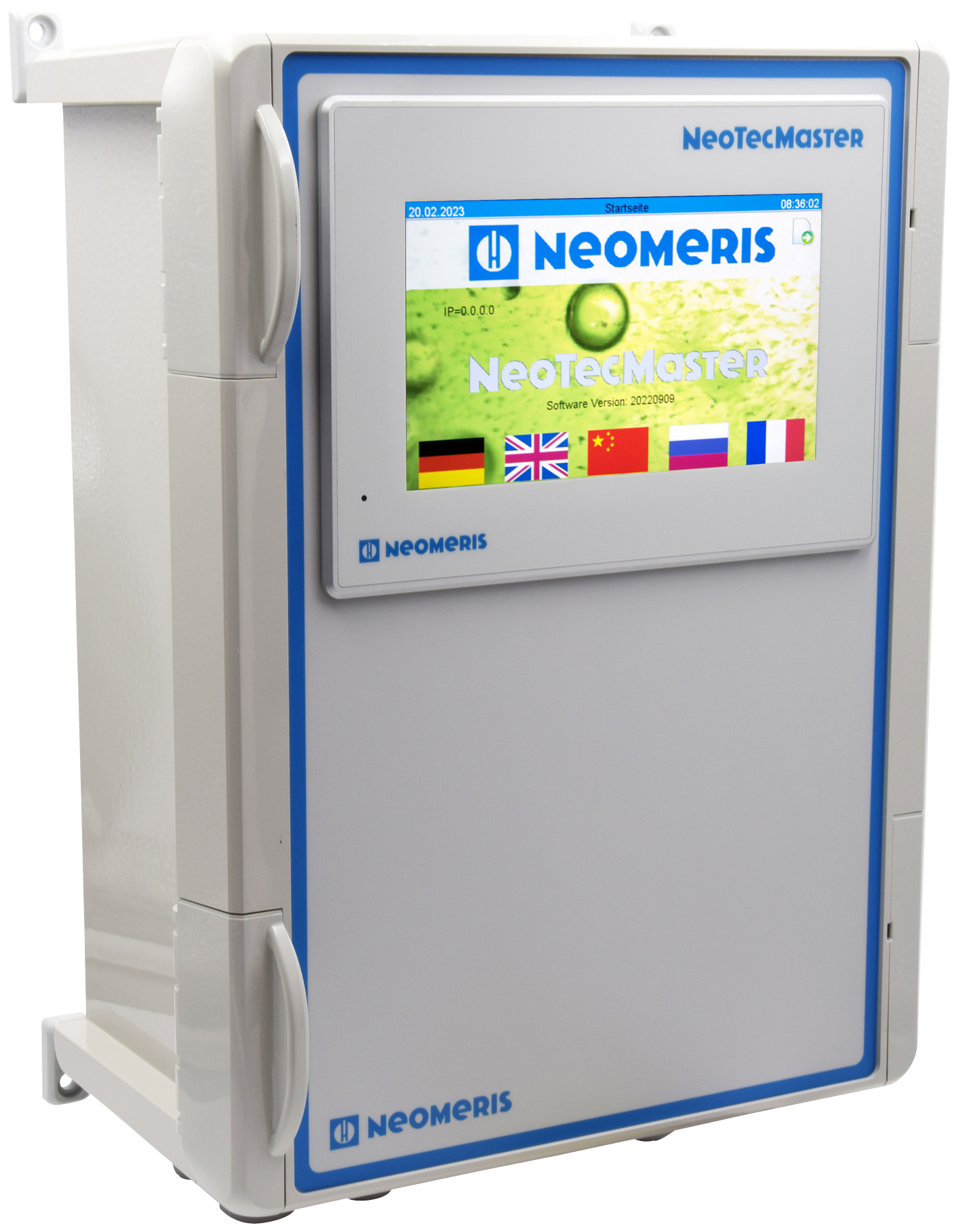 The NeoTecMaster® Multicontroller concept is a basic building block for any water treatment plant.
Technical highlights
Available as 4 or 8 channel system
Modular concept for signal inputs (Modbus-RTU, 4-20 mA or RS232)
Software architecture for integration of Testomat EVO, Testomat 2000, Testomat LAB, Testomat 808, Testomat 808 SiO2 and Neomeris Select already available
Ethernet interface for network integration
Visualization of status messages and measured values via web interface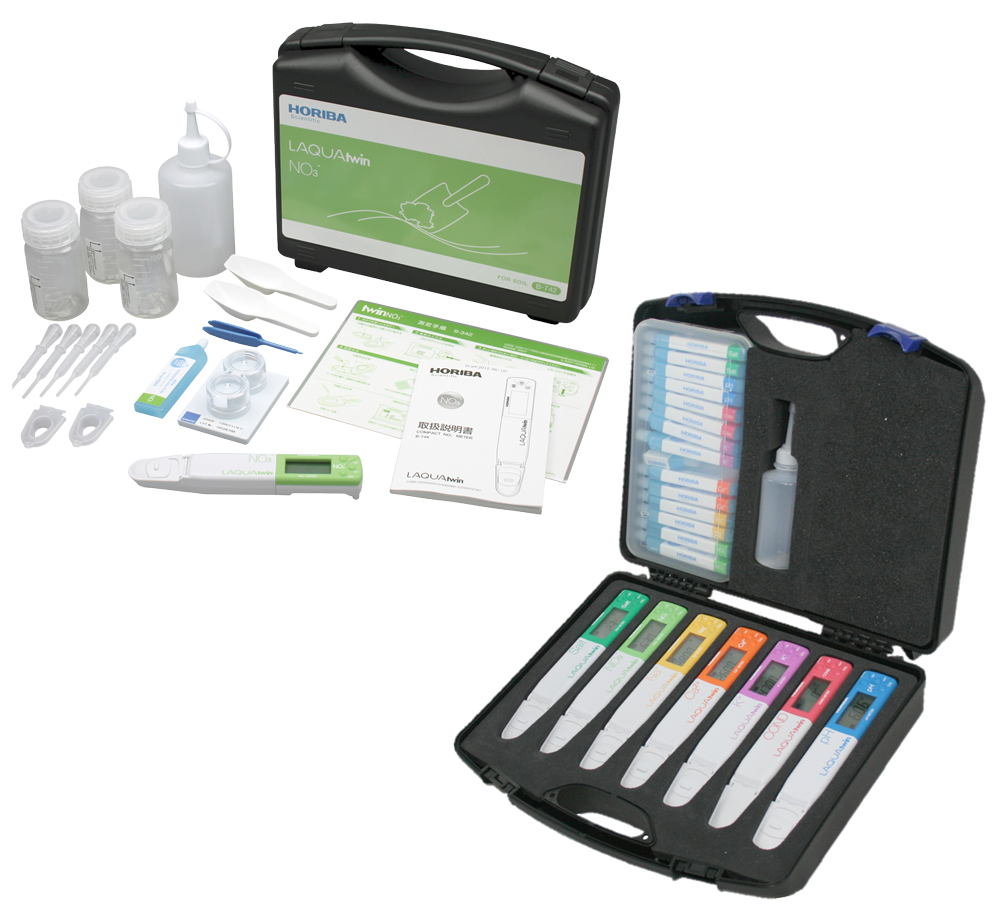 The pocket testers are suitable for the measurement of industrial waste water, drinking water as well as products from the food and beverage industry and the agricultural sector
Fast analysis of measurement parameters on site
Easy and uncomplicated handling
High-quality sensor technology
Broad product portfolio for use in different application areas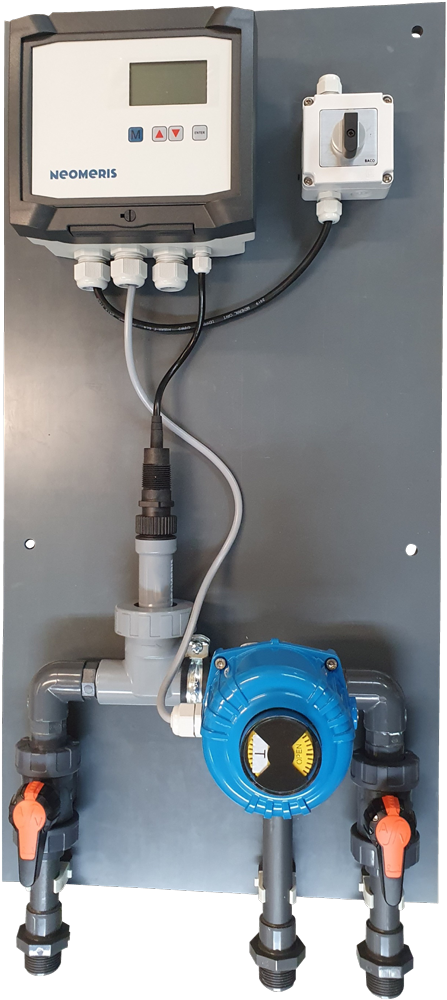 The Neomeris blowdown panel was developed for simple conductivity-controlled blowdown processes in the cooling tower area
Preprogrammed and electrically wired ready for operation
Factory pre-calibration of the conductive conductivity measurement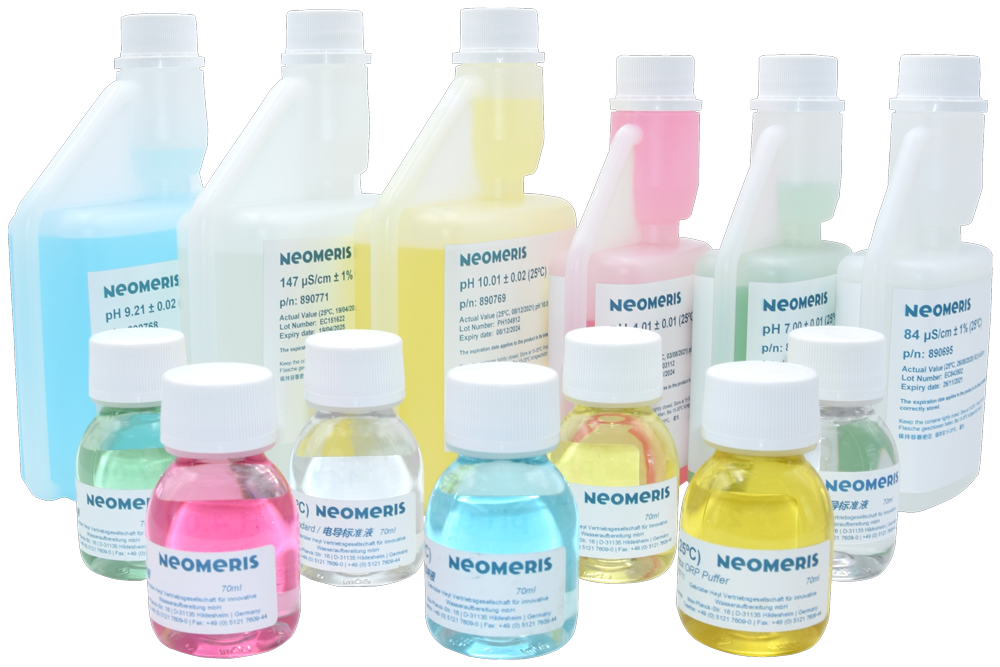 High-quality buffer and calibration solutions for calibrating your electrodes with special hygienic closure
Available in 100 ml and 500 ml bottles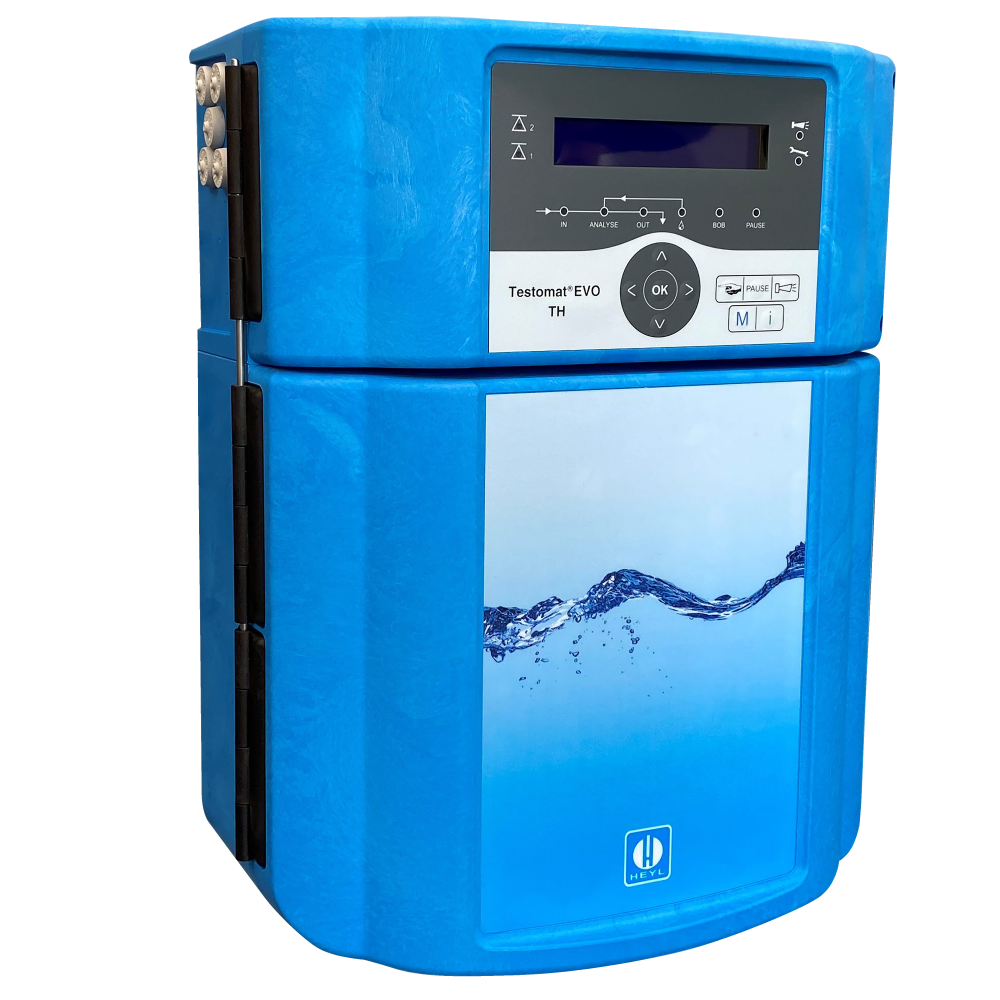 Testomat® instruments available for more than 20 parameters; continuous development of new instruments for new maximum process reliability in water treatment.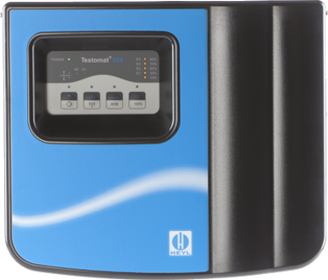 The Testomat 808 is a compact analyzer for the Online - measurement of water hardness according to the principle "limit value monitoring with color change".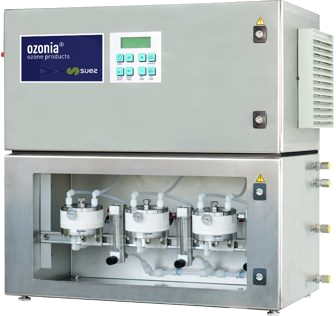 Ozone generators for water treatment.
Electrolytic ozone generators for ultrapure water - disinfection residual ozone destructors.

UV systems for water disinfection
UV technology - DVGW / ÖVGW certified UV systems
UV systems for drinking water, ultrapure water and process water disinfection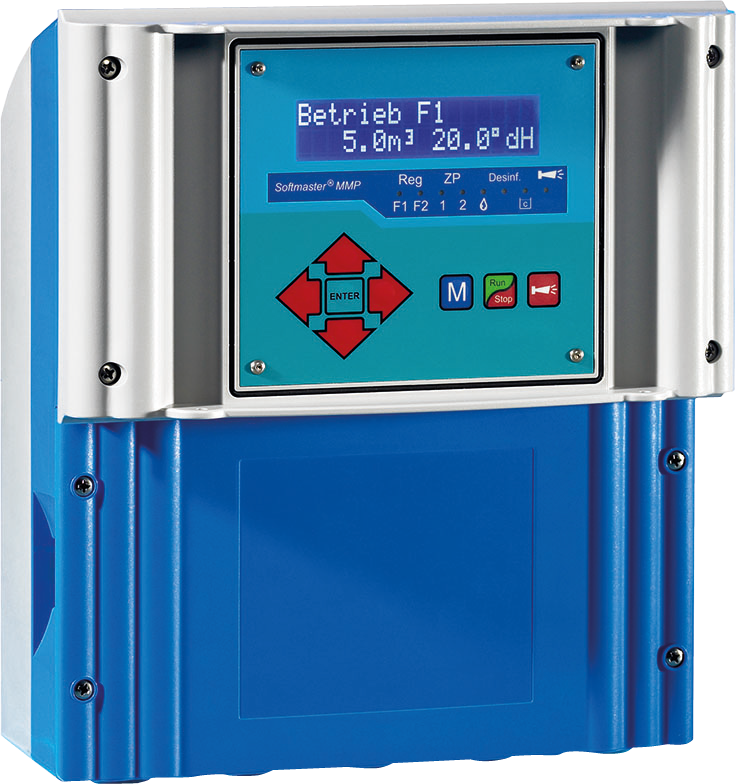 The Softmaster® micro-controller series is a cost-effective alternative to process control systems for controlling various water treatment plants
Tradition and future for innovative Water treatment plants Cologne
Water treatment Cologne with the latest measurement and control technology
There is hardly a city in Germany in which the supply of clean water has such a tradition as Cologne. For almost 2,000 years, fresh water for drinking or washing has bubbled out of the pipes of the Rhine metropolis!
Colonia Claudia Ara Agrippinensium – that was the ancient name of the city, which with up to 40,000 inhabitants was one of the largest north of the Alps. The longest aqueduct north of the Alps supplied the people of Cologne in Roman times with drinking water – the nearly one hundred kilometer long Eifel water pipeline. Up to 20,000 cubic meters of fresh mountain water flowed daily into the city's public fountains, thermal baths and domestic connections.
As exemplary as the water supply was back then, as high-tech is the water treatment and feed today. The latest standards and state-of-the-art measurement and control technology make it possible to meet the demanding task of supplying people with the most important of all foodstuffs. Neomeris supplies products and technologies for state-of-the-art water treatment plants.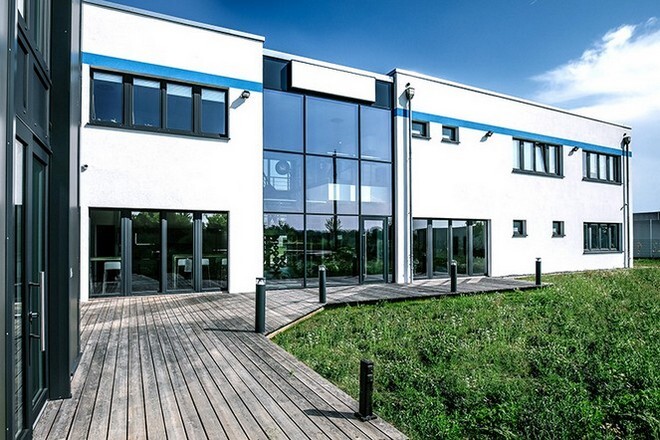 What does a water treatment plant consist of?
What does a water treatment plant consist of?
The essential components of a water treatment plant include mechanical, biological and chemical processes such as filtration stages, softening plants, reverse osmosis, disinfection stages, storage and distribution systems or pressure boosting. Measurement technology, control technology, online analyzers and other solutions guarantee compliance with the required standards.
In the softening plant, the dissolved salts found in any natural raw water are minimized by the ion exchange process. In this process, the water is passed over a resin that ensures the exchange of hardness builders such as calcium or magnesium salts for sodium ions. The calcium and magnesium thus bound to the resin is discharged into the wastewater during regeneration. In the process, the values are constantly monitored by modern water hardness measuring devices.
The reverse osmosis plant is the next step in water treatment. It filters further substances such as silicic acid or nitrates as well as residues of pesticides or medicines from the water. For this purpose, the water is forced through a fine membrane by means of pressure. This membrane retains the harmful substances and thus purifies the water. Precise measurement and control devices accompany the process.
Water treatment Bielefeld using the example of the Senne waterworks
Cologne drinking water: Treated to the highest standards
RheinEnergie – this is the name of the regional utility company for electricity, gas, heat and water. It supplies not only the megacity of Cologne, but also the neighboring towns of Pulheim, Frechen, Bergisch Gladbach and Brühl.
Hardly any foodstuff is monitored as frequently and as strictly as drinking water. This also applies in and around Cologne. Cologne's drinking water is so clean that even baby food can be prepared with it without any problems. The RheinEnergie utility supplies around 186,000 cubic meters of water to households and businesses in its catchment area.
The supplier obtains the raw water from the Cologne Bay. A steady stream of groundwater runs through the landscape of the Rhenish low-terrace plain. This flow consists of percolated precipitation as well as surface water. Gravelly soil layers as well as heavy sand deposits filter the water in a natural way.
The Cologne water utility produces the water in its own well systems. Water treatment takes place in eight waterworks. The purified and treated water is fed into separate drinking water networks on the left and right bank of the Rhine. Daily water analyses, state-of-the-art laboratory technology and measuring devices throughout the city constantly monitor water quality. Even the smallest traces of undesirable substances can thus be detected.
A word about water hardness. Cologne's drinking water contains dissolved calcium and magnesium compounds. For the most part, it is considered hard. Even the Romans preferred hard water to so-called soft water because of its full-bodied taste. Cologne tap water can be drunk without hesitation. The long soil filter passages, the activated carbon filtration in the water treatment plants as well as the most modern measuring and control technology guarantee the high quality. Even viruses such as the Corona virus are reliably filtered out. No chance for germs! (Source: RheinEnergie).
Water treatment: ultra-pure water for Cologne
Drinking water is the most indispensable food: no human being can live without water. Yet ultrapure water is subject to even stricter requirements for many parameters. It must be almost completely free of residues. Even those that are considered healthy for humans in certain concentrations, such as magnesium or minerals.
Ultrapure water is used for food production and is also used in the beverage industry. It is also used in semiconductor production. It is also needed in the pharmaceutical industry and medical technology. This is also referred to as pharmaceutical water. Water treatment is very complex and requires the most precise measurement and control technology applications.
Modern technology for process water treatment
Industrial plants and production facilities require process water. Even though it is not intended for human consumption, high quality requirements apply here as well. For example, the gas content, solids content, water hardness, pH value or electrical conductivity must meet the specifications. Microorganisms or legionella, for example, must be reliably eliminated. High-tech measurement and control technology is essential for this.
Highest precision with measurement and control technology for water treatment plants from Neomeris, Hildesheim, in Cologne.