Functionality of boiler feed water treatment
Sustainable energy efficiency with boiler feedwater treatment plants
Continuous energy efficiency through boiler feed water treatment plants
In boiler plants, steam plants, deposits such as corrosion and scale lead to sustainably poorer heat transfer and have a negative influence on the smooth operation of boiler plants. Significant additional costs for energy are incurred and operational safety can be jeopardized.
Professional boiler feed water treatment for steam boiler plants is unavoidable for these reasons.
Problems in boiler plants, steam boilers without softening plant
a too low pH value in the boiler feed, boiler water
too high oxygen content
an insufficient feed water treatment
the soda decomposition
incorrect operation
Without professional and sustainable treatment of the Kesels feed water, long-term trouble-free and safe as well as economical operation of the boiler plant is difficult.
Advantages of water treatment for boiler plants with softening
Improved heat transfer
Rust protection in the entire plant
No scale formation
No silted pipelines, pumps, etc.
Higher operational reliability and value retention
Reduced downtime due to maintenance and production losses
Surveys have shown that continuous control of parameters such as water hardness, carbonate hardness and conductivity through sustainable water treatment can save several thousand euros annually in energy and downtime.
Other effects on the performance of boiler feedwater systems.
Water hardness does not only lead to additional energy costs due to lime deposits.
Some other factors can lead to even more harmful incrustations.
Sulfates, silicates as well as calcium phosphate can also lead to problematic deposits on the heat exchange surfaces in the feed water.
Due to the occurrence of these substances in addition to lime deposits, the cost of energy loss, descaling and further damage to the boiler system can be very high.
Monitoring water quality can also significantly increase the service life of a heating or steam boiler, which in turn leads to significant savings in fixed assets and investments.
Boiler plants become very susceptible to significant increases in energy costs, especially due to lime deposits.
A professional softening plant, water treatment plant is highly recommended for this reason.
What are the key building blocks of a steam generation plant?
Boiler water treatment
Steam generators, steam boilers
Steam lines
Consumers
Condensate
But in general, all steam plants follow the same procedures to produce steam
In every steam plant there are at least 2 places where the aggregate state of the working medium water changes:
The applied heat (heat of evaporation) produces water vapor from water
The water vapor releases its heat (heat of condensation) again, water (condensate) is formed again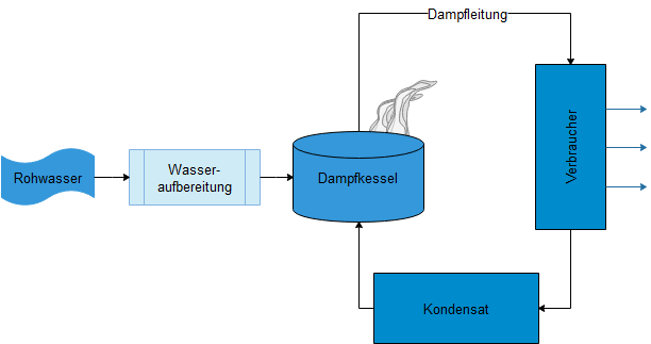 Boiler feed water treatment first step
First treatment of the boiler feed water
Prefiltration: removal of iron and manganese by filtration
Softening: removal of hardness minerals calcium and magnesium ions
Desalination: removal of all dissolved salts by reverse osmosis/ion exchange
Degassing: removal of dissolved corrosive gases CO2 and O2 by thermal degassing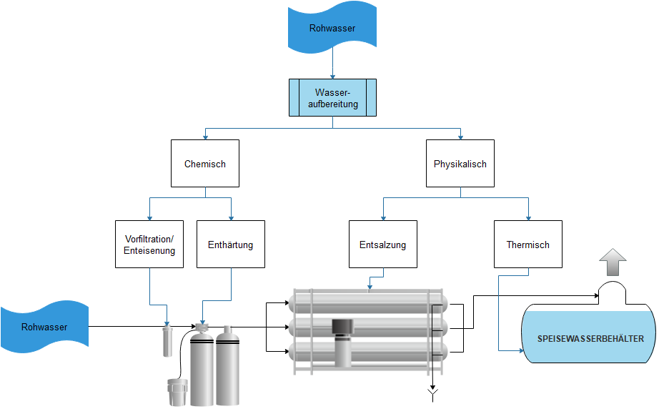 Now all foreign substances are removed and for the removal of the dissolved gases the thermal full degassing can be used.
During full degassing, the water is heated and the harmful gases oxygen and carbon dioxide decrease.
Water at a temperature of 25˚C contains about 8 mg O2/kg.
Here you can see that when the temperature is increased, the gas concentration is reduced.
In steam boilers, these compounds lead to the dreaded pitting corrosion.
Especially in the feedwater feed area, pitting can occur in a very short time.
It is therefore important to remove the dissolved gases from the boiler feed water.
A proven means for this purpose is thermal feedwater degassing.
The feed water is degassed in the degasser, which is placed on the feed water tank.
Decarbonization when water contains salt.
Boiler feed water treatment second step
Second treatment after physical treatment
Oxygen binder: e.g. sodium sulfite (Na2SO3)
Boilermaking agents: e.g. trisodium phosphate (Na3PO4)
Corrosion inhibitors (film-forming amines): e.g. Duomeen O, Naylamul S11
Alkalization (pH correction): e.g. diethylaminoethanol (DEHA)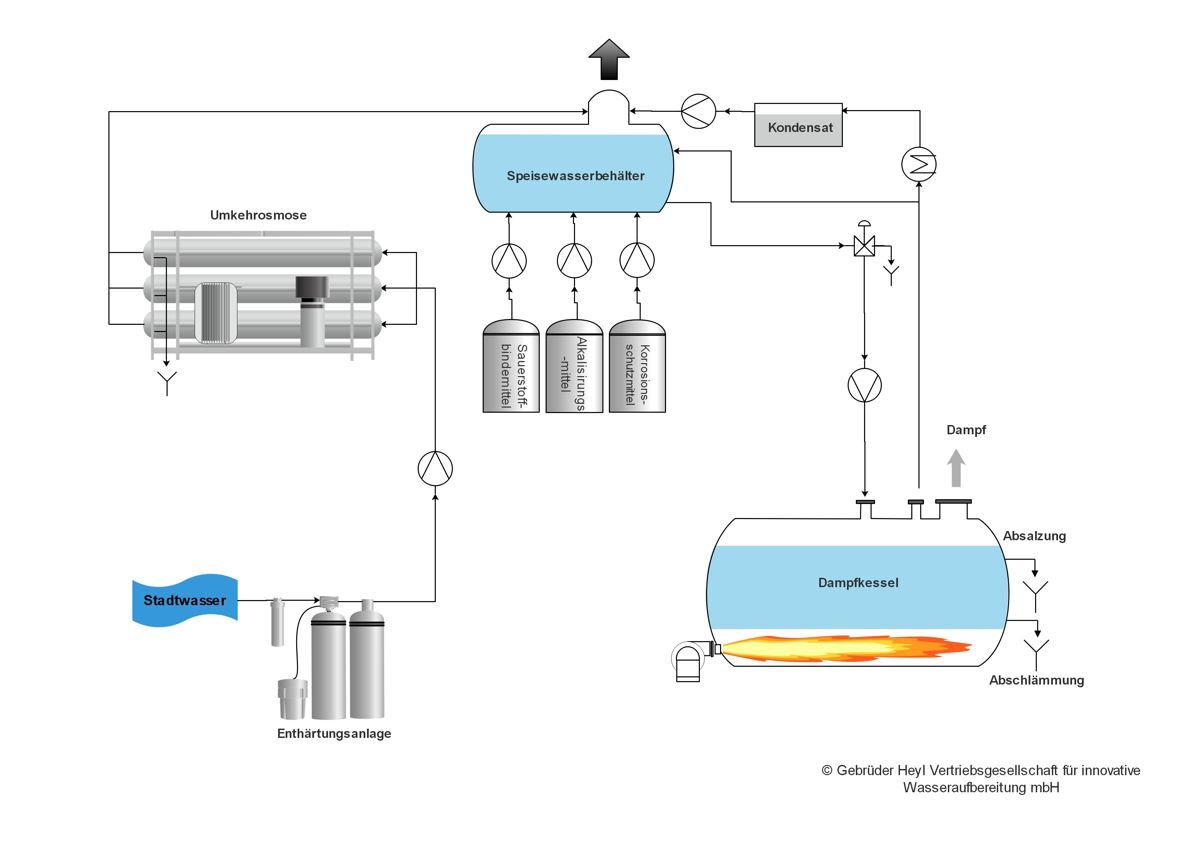 Afterwards, the chemically and thermally treated feed water is checked by means of sampling
and, if necessary, corrected by dosing chemicals.
Z. For example, sodium sulfite (Na2SO3), DEHA (diethylhydroxylamine), hydrazine… can be used as oxygen binder, trisodium phosphate (Na3PO4) as hardness stabilizer.
PH correction:
Ammonia solution (NH3) and as a corrosion inhibitor you can use Duomeen O.
There is a wide range of products available from water treatment companies.
The conditions of use should always be agreed with a water treatment company.
Boilermaking agent/hardness stabilizer/dispersants:
To clean and prevent iron oxide and hardness deposits pH conditioning by dosing trisodium phosphate (Na3PO4).
Oxygen binder:
Sodium sulfite (Na2SO3), DEHA (diethylhydroxylamine), hydrazine….
PH correction:
Ammonia solution (NH3)
Online water quality monitoring
After these steps, the boiler feed water is treated, the treatment plant is installed.
Now it is necessary to monitor the whole process.
What does this look like in the boiler feed water treatment plant?
With monitoring and measuring devices, as shown.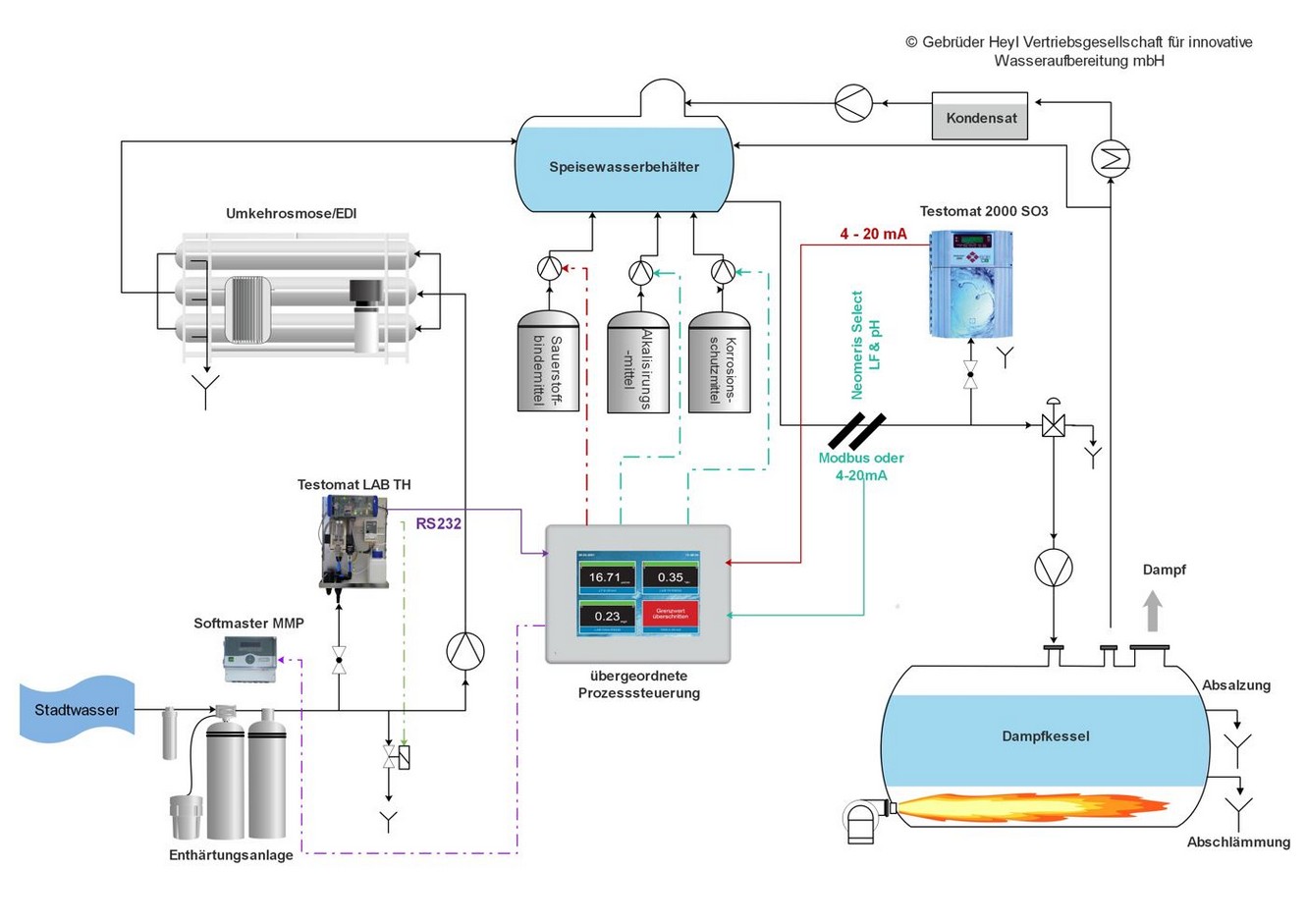 Softmaster MMP: Control system for softening plant
Testomat Lab-TH: Residual hardness monitoring of make-up water
Higher-level process control
Testomat 2000 SO3: Sulfite measurement
Softmaster ROE: Control for reverse osmosis plant
Amortization of a softening plant for boiler plants
Without water treatment, the costs for the higher energy consumption, downtime of the plant, maintenance and repair costs easily amount to well over 10,000 € per year.
You will usually reach the ROI of the equipment investment within one year.
Request individual offer directly online
Request a quote directly via the watch list.
After consultation with you, we will be happy to prepare your individual offer with these products or products that match your needs.
Our experts will contact you prepared.