Reduce energy costs by monitoring water quality
Avoiding energy cost increases through water treatment
Reduce energy costs through water treatment?
Deposits, scale formation and corrosion in modern heat generators often cause problems. Scale deposits lead to higher heat loads in heat exchangers and thwart better heat transfer:
A lime deposit layer with a thickness of 1.0 mm can reduce heat transfer by up to 30%.
Due to the low thermal conductivity of lime, considerably more heat must be applied.
The higher temperatures and cross-sectional constrictions cause stresses on the surfaces.
Stress cracks can be the result.
In addition, materials used such as aluminum or stainless steel react extremely sensitively to corrosive filling water.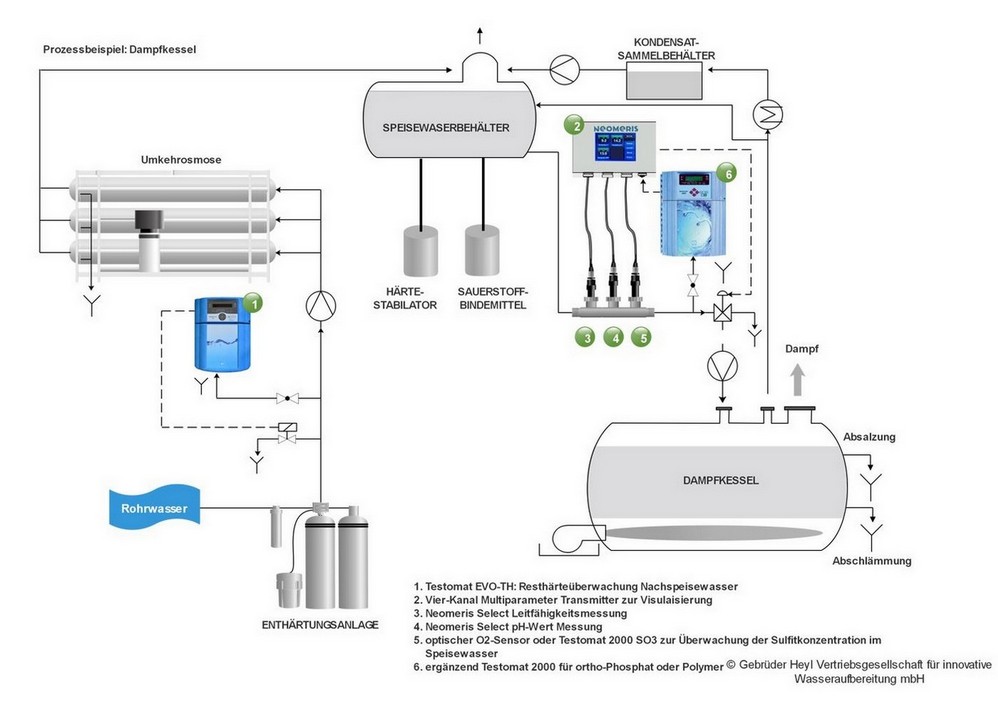 Quicker ROI through lower energy costs and downtime
All these factors cause higher operating costs.
A lime deposit layer of 0.1 mm thickness can increase energy costs by 12%, and lime can also damage system components and lead to unforeseen failures.
The technical rule VDI 2035 for the prevention of damage in drinking water heating and hot water heating systems contains comprehensive specifications for the filling water depending on the volume of water to the boiler output or technical measures to prevent scale and corrosion damage and deposits in closed heating circuits.
Relevant parameters for scale formation are the total hardness and the carbonate hardness of the water.
For corrosion, the chemical composition of the filling and make-up water, especially the oxygen content, the pH value, the electrical conductivity and the water hardness are of decisive importance.
For a trouble-free operation of your plant, the water quality must be monitored continuously.
By using a qualified online monitoring system based on Testomat together with a control system that meets your requirements, reliable control is possible.
By monitoring the water quality, energy costs can be saved and additional maintenance and downtime can be avoided.