System solutions for Water treatment plants Leipzig
industrial measurement technology, UV and ozone technology for water treatment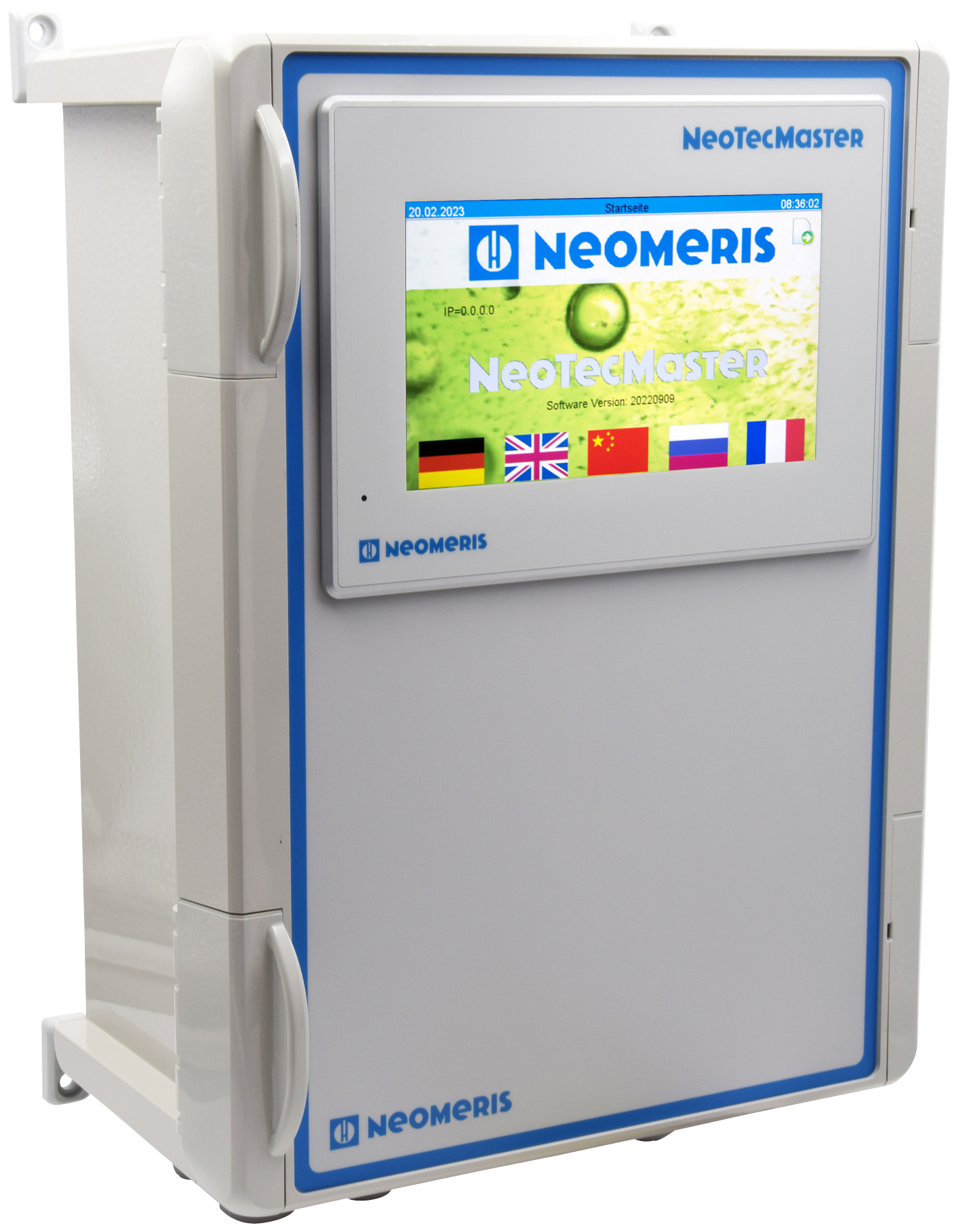 The NeoTecMaster® Multicontroller concept is a basic building block for any water treatment plant.
Technical highlights
Available as 4 or 8 channel system
Modular concept for signal inputs (Modbus-RTU, 4-20 mA or RS232)
Software architecture for integration of Testomat EVO, Testomat 2000, Testomat LAB, Testomat 808, Testomat 808 SiO2 and Neomeris Select already available
Ethernet interface for network integration
Visualization of status messages and measured values via web interface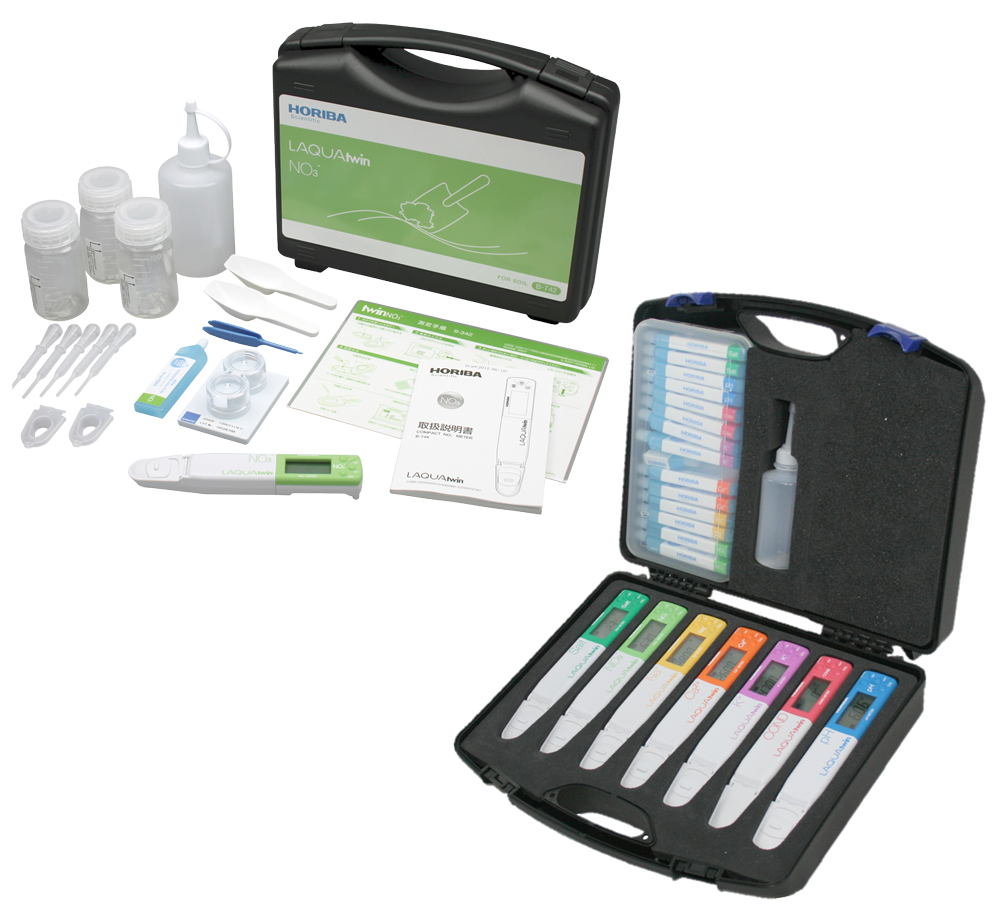 The pocket testers are suitable for the measurement of industrial waste water, drinking water as well as products from the food and beverage industry and the agricultural sector
Fast analysis of measurement parameters on site
Easy and uncomplicated handling
High-quality sensor technology
Broad product portfolio for use in different application areas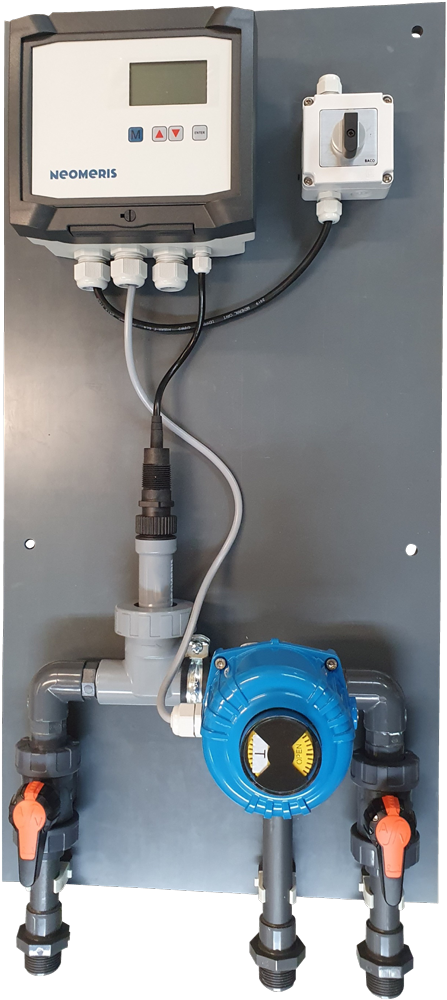 The Neomeris blowdown panel was developed for simple conductivity-controlled blowdown processes in the cooling tower area
Preprogrammed and electrically wired ready for operation
Factory pre-calibration of the conductive conductivity measurement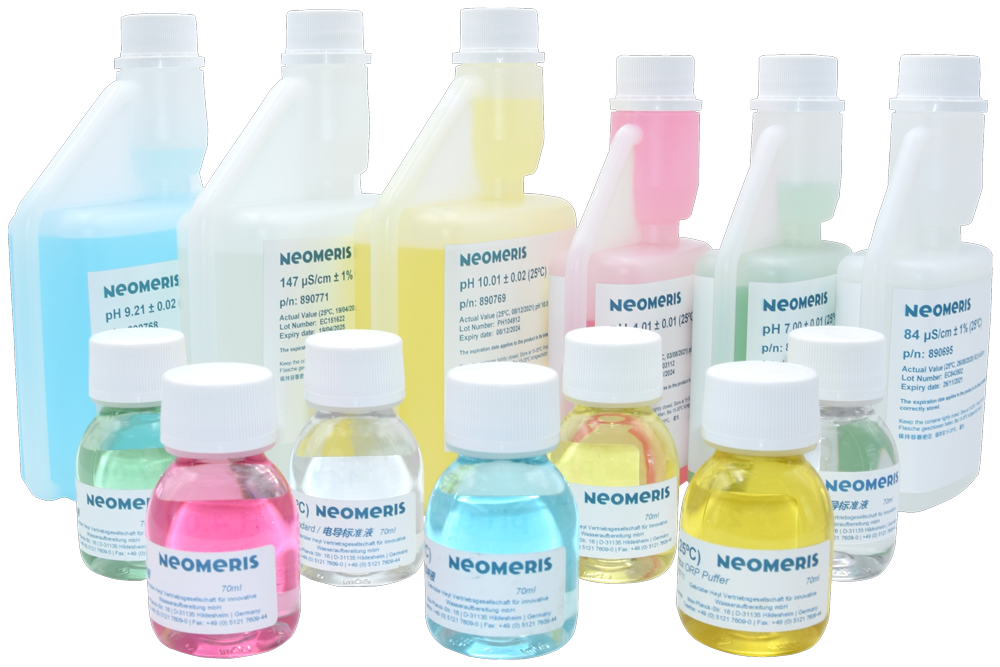 High-quality buffer and calibration solutions for calibrating your electrodes with special hygienic closure
Available in 100 ml and 500 ml bottles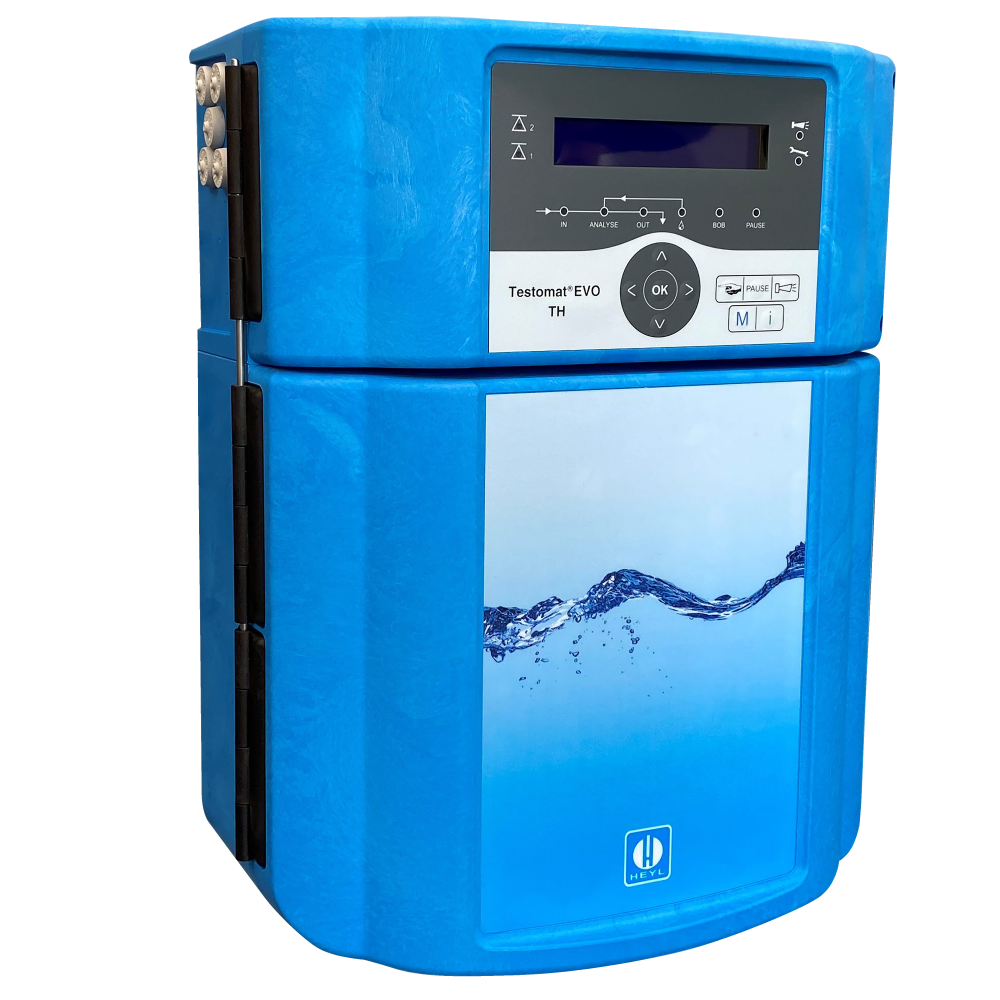 Testomat® instruments available for more than 20 parameters; continuous development of new instruments for new maximum process reliability in water treatment.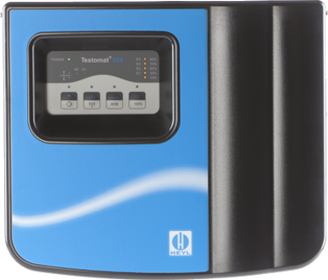 The Testomat 808 is a compact analyzer for the Online - measurement of water hardness according to the principle "limit value monitoring with color change".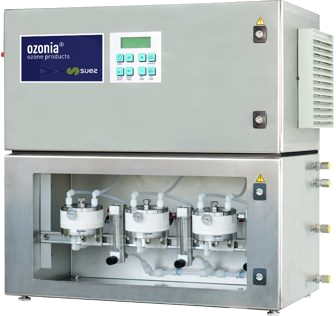 Ozone generators for water treatment.
Electrolytic ozone generators for ultrapure water - disinfection residual ozone destructors.

UV systems for water disinfection
UV technology - DVGW / ÖVGW certified UV systems
UV systems for drinking water, ultrapure water and process water disinfection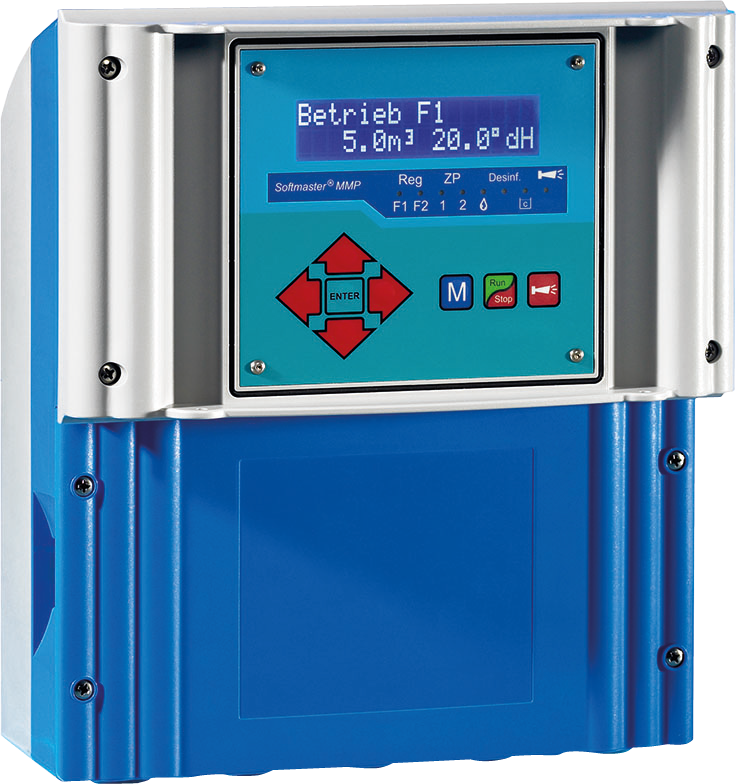 The Softmaster® micro-controller series is a cost-effective alternative to process control systems for controlling various water treatment plants
Tradition and future for innovative Water treatment plants Leipzig
Water Treatment Leipzig and Neomeris Hightech from Hildesheim
Red Bull may be responsible for fizzy drinks: Leipzig's drinking water – as its most important foodstuff – is the business of Kommunale Wasserwerke Leipzig, or KWL for short. Their water treatment for Leipzig ensures the water supply for what is after all the eighth largest city in Germany and the largest in the state of Saxony. The old trade fair city of Leipzig has almost 600,000 inhabitants and is the heart of the densely populated Leipzig-Halle metropolitan region. Around 680,000 people in the city and the region receive their drinking water from KWL.
Leipzig – the "hero city" at the time of reunification – is now hip and fashionable. Drinking water is one of the foundations of its quality of life. State-of-the-art control, measurement and regulation technology from Neomeris, Hildesheim, makes important contributions to quality in water treatment.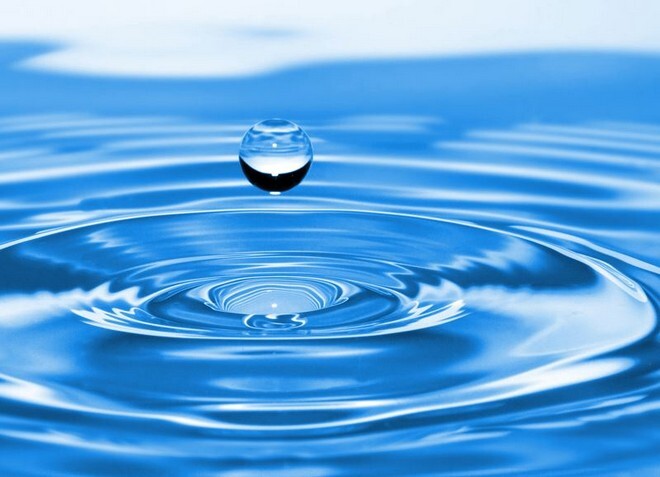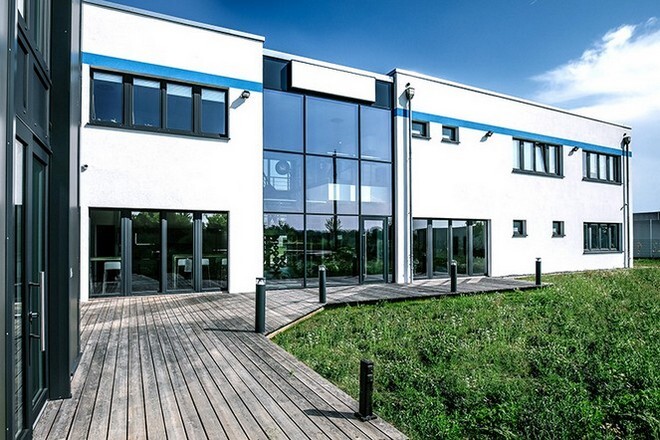 Which Leipzig citizen and drinking water consumer has any idea what is flowing under his feet: It is the water of one of the most modern, but also most traditional sewer systems in Europe! From the beginning of the 16th century, a system of wooden pipes fed the city's fountains for over 200 years. In 1887, the first water treatment plant went on line in Naunhof. Today, KWL operates four large waterworks, including the
water treatment plants
in Thallwitz and its district of Canitz.
Water treatment Leipzig: Drinking water from Naunhof and the Mulde river
What I'm sure not everyone in Leipzig knows is that the waterworks operate a computerized sewer network control system for distributing fresh water and wastewater that is unique in Europe. With this system, sewers and water treatment plants are not overloaded even during heavy rainfall and do not have to discharge excess wastewater into the rivers. Incidentally, the sewer network has a length of a proud 3,500 kilometers, which in air-line terms would stretch from Leipzig to Tehran.
Water treatment Leipzig: Drinking water from Naunhof and the Mulde
The drinking water for Leipzig is obtained from two regions. One water source forms the surrounding area of Naunhof. The other source area is in the area of the Mulde between Wurzen and Eilenburg and here especially in the area of Thallwitz and Canitz. There, the drinking water collects in about 400 underground wells. A strongly gravelly subsoil up to 30 meters deep already provides for natural water filtration.
The water of the Mulde originates from the Ore Mountains. It contains a lot of minerals like calcium and magnesium. These substances are important for muscles and nerves to function and for bones and teeth to be built.
Around Canitz there is a drinking water protection area. Thus it is impossible that agriculture, traffic or construction measures affect the water quality. Organic farming in the area does not require the use of pesticides to control pests and reduces nitrate
reduces nitrate input into the soil.
Water treatment Leipzig: How the waterworks work
Water treatment Leipzig: How the waterworks work
In an exemplary water treatment plant for Leipzig, the wastewater or raw water enters a raking plant through the dirty water inlet. There, coarse impurities from toilet paper and excreta, as well as food residues or incorrectly disposed trash, are screened out.
The further path of the water leads via a grit trap to a lift station with screw pumps, in which the mechanical cleaning continues. This is followed by a primary clarifier and finally chemical purification in two stations. Next, biological purification takes place in the so-called aeration basin. Here microorganisms break down carbon and phosphate compounds. Subsequently, the activated sludge is separated in the secondary clarifier. All steps are permanently accompanied by state-of-the-art measurement and control technology. And heat and energy can be recovered from the sewage sludge in the digesters.
Permanent quality control with measurement technology
Each Leipzig waterworks takes samples twice a week to test water quality. In addition, online measurements take place regularly to monitor turbidity, chlorine content or pH values. Neomeris provides measurement technology and online analysis equipment for measurements according to the highest technological standards.
To guarantee Leipzig residents absolute safety when it comes to water quality, the municipal waterworks' own drinking water laboratory conducts more than 7,000 drinking water samples annually (source: Kommunale Wasserwerke Leipzig/KWL).
Water treatment with ion exchange and reverse osmosis
Neomeris offers measuring instruments, analyzers, control devices and much more high-tech equipment for controlling and monitoring water treatment plants. UV and ozone devices, gas detectors, sensors and electrode meters are just a few examples.
Typical elements of many water treatment plants are water softening and reverse osmosis, which are controlled and monitored with state-of-the-art measurement and control technology. In water softening, the water is passed over a resin loaded with sodium, to which the calcium and magnesium compounds that form hardness and are often highly concentrated in natural water "dock". In return, the resin releases sodium ions into the water, hence the technical term for this type of water softening ion exchange process.
The reverse osmosis system filters other foreign substances out of the water. This is done through an ultra-fine membrane in which, for example, silica, nitrates, pesticide or drug residues stick due to the size of their molecules.
The "end product" of Leipzig's water treatment plants is not only drinking water. The food industry, breweries or beverage producers, semiconductor manufacturers as well as pharmaceutical companies also require the virtually impurity-free ultrapure water from which all undesirable ingredients and impurities are removed by using the latest treatment technologies.
Neomeris Hightech Measurement and Control Technology for Water Treatment, Leipzig