Measurement and control technology from HeylNeomeris for pharmaceutical water treatment
HeylNeomeris as a supplier of measurement and control technology for pharmaceutical water treatment and for water treatment in hospitals
Gebrüder Heyl Vertriebsgesellschaft für innovative Wasseraufbereitung mbH has been considered a competent and reliable partner in professional water treatment for decades. Since the beginning the vision was to be a professional partner for all water processes. This goes hand in hand with the consistent expansion of our product portfolio, which also includes solutions and plant technology for process water supply of the highest quality.
Our expertise lies, among other things, in the supply of measurement and control technology for pharma water treatment. Ultrapure water for pharma production plays a crucial role in the various stages of manufacturing pharmaceuticals and related products. As an essential raw material, pharma water has a direct impact on the quality of pharmaceutical products. Therefore it is needed to produce infusions, injections and solid drugs.
Due to the different water quality at the point of entry, the water treatment for ultrapure water must be individually adapted to the local conditions. As a rule, the water treatment for the process water consists of the following main components:
Backwashable prefiltration
Double softening plant
Two-stage reverse osmosis plant
CO2 membrane degassing
Electrodeionization (EDI)
Ultrafiltration at cold WFI generation designed by the plant engineering companies according to the water demand and special requirements of the pharmaceutical plant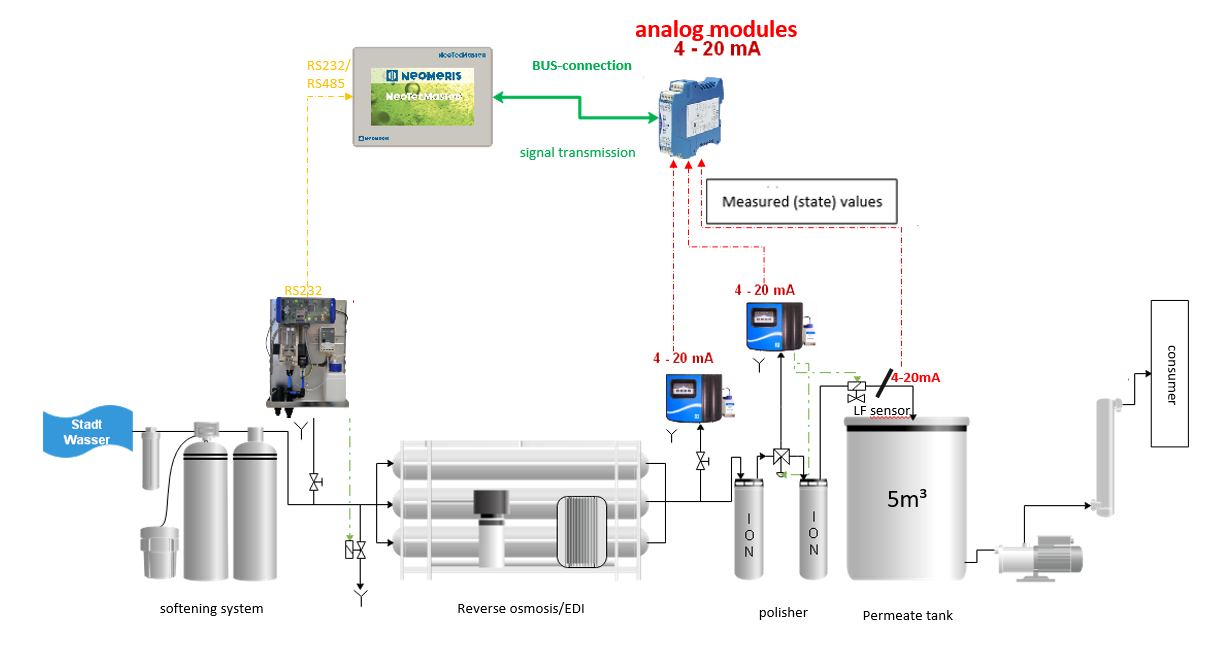 Figure: Construction of a pharma water production plant with tank and ring line
The three main stages of a pure water treatment plant, starting from drinking water as the feed water source, are as follows:
Desalination by means of a water softening plant.
Reverse osmosis (RO) process
Electrodeionization (EDI)
The preparation process described above effectively removes impurities to achieve the desired level of purity for various applications in the pharma industrie and other industries.
In the process of water treatment, water hardness is often considered as a critical parameter. The best known and most accurate method for determining total hardness is complexometric titration with an aqueous solution of the disodium salt of ethylenediaminetetraacetic acid (EDTA, trade name: Titriplex III) at a known concentration.
With our Heyl Testomat world we enable water hardness monitoring in your water treatment process by means of complexometric titration analysis methods. For this purpose, there are device types for real-time and limit value measurement.
Silicate monitoring in process water treatment
In general, urban water sources contain dissolved substances such as sodium, calcium, magnesium, chlorides, nitrates, bicarbonates and other ions.
In addition to the water parameters mentioned above, which can be critical in the context of water treatment, the presence of silicates in process water is particularly critical for sterile processing in the clinical environment.
Silicate monitoring can be used to ensure that no deposits such as silicate clouds, which cause pitting corrosion, occur on the instruments and medical devices. Damaged instruments are considered to be carriers of germs to patients. Silicate monitoring in the process water treatment process protects the instruments and medical devices and helps to maintain patient safety. Silicates can be monitored using our Testomat 808 SIO2 limit meter, the most affordable meter for silicates on the market.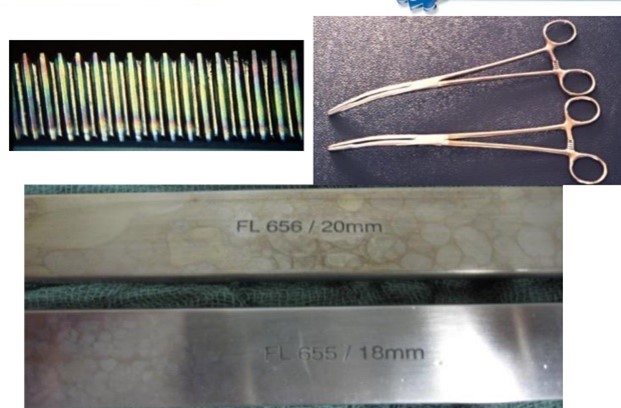 Figure: Contamination with silicates on instruments
Monitoring of the relevant measured values with the NeoTecMaster®.
The monitoring of the relevant measured values within the scope of water treatment can be visualized by means of the NeoTecMaster®, an open-manufacturer multiparameter system. Integration of non-proprietary sensors and measurement technology is possible without any problems. The multicontroller can thus be adapted to a wide variety of operating conditions and different measurement and analysis concepts.
We, the Gebr. Heyl Vertriebsgesellschaft für innov. Wasseraufbereitung mbH are not only an expert in pharma water treatment, but also at your side with our know-how and expertise in medical and clinical process water for sterile processes and in control technology.