Horiba LAQUA ION2000 Laboratory Table Meter Multiparameter
* Preise exkl. MwSt. zzgl. Versandkosten.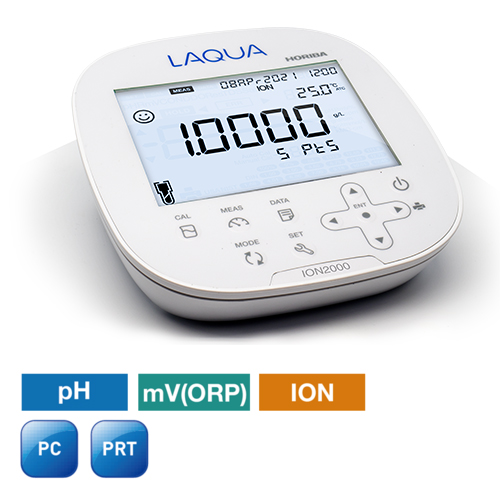 Produktinformationen
Maße: 410 x 260 x 230 mm
Gewicht: 1,000 kg
Messparameter: pH | ORP | Ammonia| Calcium | Chloride | Fluoride | Nitrate | Potassium | Temperature
Beschreibung
Beschreibung "Horiba LAQUA ION2000 Laboratory Table Meter Multiparameter"
High-end laboratory measuring instrument for analytics
Dear customers, herewith we offer you our highly professional Horiba laboratory table-top measuring instrument of the 2000 series.
The LAQUA 2000 series laboratory tabletop meter has a very high-quality 5 inch display with backlighting which shows you all the important information, such as the measured value with up to four decimal places in this version (depending on the resolution), the temperature, the date with time and much more.
The LAQUA 2000 series also offers you an adequate device memory with automatic data storage after a set time interval to document your daily measurements accurately over a long period of time. To protect the device settings from unauthorised access, they are password-protected. After your measurements, you can easily transfer all measurement data from the device to your PC via a USB cable in CSV, Excel and Pdf formats using the DAS20 software.
In order to facilitate your daily work with the device, the table measuring device visualises the correct calibration, the stable measurement as well as the electrode wear condition. The operation is intuitive because the available keys are marked with symbols and abbreviations. After the analysis, you can clean the device easily and in a time-saving manner with a damp cloth, as the surface is dirt-repellent due to its nature.
With the electrode stand included in the scope of delivery, two electrodes can be held and adjusted in height. This allows you to individually align your electrode to your container or glass for calibration and measurement.
Special features of the Laqua ION2000 model :
The ION2000 is a laboratory meter to which you can connect the separately available ion-selective Horiba probes or determine the pH value and the redox value via the electrodes.
Single input, connection of one electrode.
Ions (ammonia, calcium, chloride, fluoride, nitrate, potassium)

Measurement ion-selective
accepts combined and half-cell ion-selective electrodes
wide measuring range from 0.000 μg/L to 9999 g/L
accepts up to 5 user-defined ion calibration points
choice of preferred units: μg/L - mg/L - g/L, ppm - ppt, mmol/L - mol/L
Resolution of 4 significant digits after the decimal point with automatic scaling
pH-ORP
wide measuring range; -2.000 to 20.000 pH
high accuracy; ± 0.003 pH
resolution: 0.1, 0.01 or 0.001 pH
continuous display of calibrated points
display of offset and slope - by segment and average up to 5 pH
calibration points ± 2000.0 mV
1-point redox calibration
automatically recognises and calibrates USA, NIST, NIST2 and DIN pH buffers
allows CUST (Custom) buffers for manual calibration
Below we would like to show you in full the general functions of the Horiba LAQUA 2000 series:
internal memory for up to 2000 data sets, measurement data with time and date information
records and stores data in the unit memory based on a specified time interval
a 4-digit password protects the meter set-up mode from unauthorised access
data can be transferred to a computer and exported in the following formats CSV/Excel/PDF
GLP/GMP

compliance of the instrument as data can be displayed, recorded and printed with date and time stamp on the instrument

Software updates can be downloaded to the instrument

Calibration reminder function, indicates that it is time to calibrate (alarm adjustable up to 90 days)

Electrode holder is mounted on the meter and can hold up to 2 electrodes (rotates 360º and can be moved up and down 30cm)

Displays measurement stability in measurement and calibration mode

displays electrode condition based on calibration data

smooth surface, easy cleaning

RS-232/USB, therefore easy PC and printer connection and free instrument software

Ergonomic design for easy viewing and operation

Clearly labelled and easy-to-use ports for communication and measurement

5" digital display with backlight, shows all important measurement values and status

Automatic calibration, recognises a wide range of standard solutions

adjustable switch-off time (up to 30 minutes)

temperature compensation, the temperature in °C or °F is either automatically detected if a temperature sensor is connected (ATC mode) or manually entered by the user

several measuring modes:
Auto-Stable mode signals a stable measured value,

Auto-Hold mode holds a stable measured value

Real Time mode continuously displays current readings
small meter footprint of 155 x 150 mm, saves valuable space

Temperature detection, easy display of sample temperature user selectable resolution, up to 3 digits

Fixed and individual calibration points

Easy navigation, navigate through the settings menu by up, down, right and left
Scope of delivery:
Measuring device with integrated electrode stand

Universal mains adapter with 6 plugs

Operating instructions
Manufacturer part number:
Meter only ION2000 (3200896963)