Horiba F-74A-S Dual Channel pH/ORP/Ion/Conductivity/Resistivity/Salinity/TDS/Temperature Meter Set with Touchscreen
1.957,00 €*
* Preise exkl. MwSt. zzgl. Versandkosten.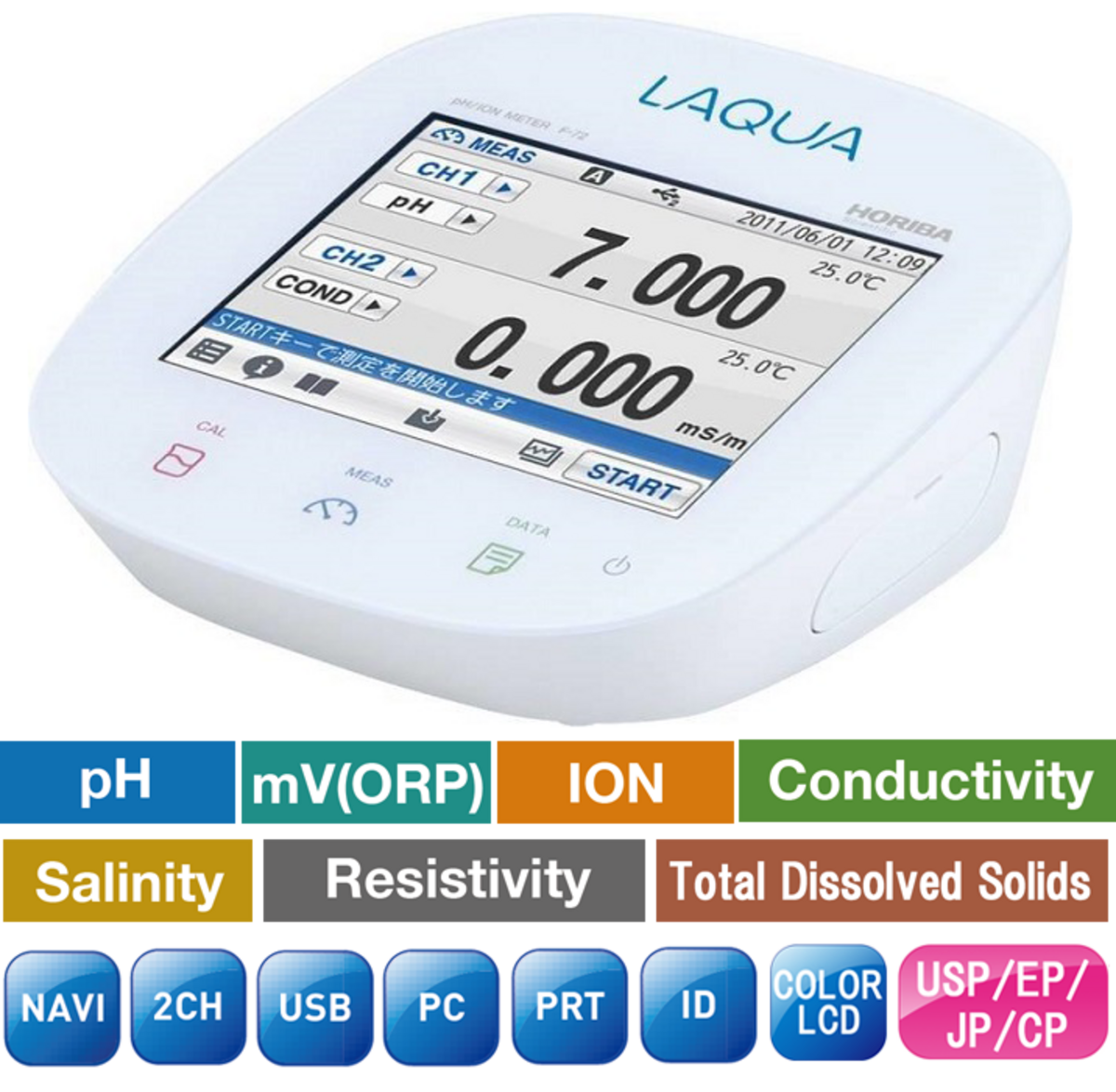 Produktinformationen
Maße: 170 x 174 x 73 mm
Gewicht: 0,700 kg
Messparameter: pH | ORP | Temperature | Ions Selective parameters (ammonia, calcium, chloride, fluoride, potassium, nitrate) | Conductivity | Salinity | Resistivity | TDS
Unser Kommentar: The measuring electrodes suitable for the laboratory measuring instruments can be found under the product category "Spare parts and individual components"
Beschreibung
Beschreibung "Horiba F-74A-S Dual Channel pH/ORP/Ion/Conductivity/Resistivity/Salinity/TDS/Temperature Meter Set with Touchscreen"
The High-End LAQUA F-74 forms the top of the laboratory instruments series and measures the parameters pH, ORP, ion, conductivity, resistance, salinity, TDS as well as temperature and complies with the standards of the industrial pharmacopoeias (JIS, USP, EP, JP and CP).
Channel 1: pH, ion selective parameters, mV, ORP
Channel 2: conductivity, salinity, resistivity and TDS
Ion selective parameters (each with his own electrode): Ammonia ion (NH3), Calcium ion (Ca2+), Chloride ion (Cl-), Fluoride ion (F-), Nitrate Ion (NO3-), Potassium ion (K+)

The auto-diagnostic function of the F- series allows the user to ensure that the instruments always provide powerful and reliable measurements. The LAQUA F-74 is fully GLP/GMP compliant and can be connected to an external printer. To ensure traceability, all results are recorded along with sample name, user ID and calibration information. The instrument offers you the proven calibration functions with automatic buffer recognition, stability display as well as the display of the electrode status (wear indicator).

We offer a comprehensive range of conductivity electrodes suitable for all types of applications and samples. Known for their stability and durability, HORIBA's electrodes provide accurate measurements under all conditions.

LAQUA's large capacitive touch screen panel:
Large 5,7" (115,2 x 86,4 mm) graphic touch- color screen

Display easy-to-understand menus for values and functions
Effortless single-touch operations- tap, flick and drag
Switch between real-time digital graphs or analogue displays during measurement with a single finger movement
Switchable single or dual channel display
Extensive on-screen support on the meter through an electronic user manual with colour images that can be accessed at any time and includes problem-solving instructions for calibration or measurement
Features:

Easy navigation for main instrument and electrode inspections
Mode for periodic inspections: JIS/pharmacopoeia/digital simulator
Customisable auto-hold function for calibration and measurement
Simultaneous connection to a GLP/GMP compliant and a PC
Digital memory - up to 2,000 measurement data sets can be recorded
360° electrode stand which holds up to three electrodes and is height adjustable
USB PC communication and USB memory
Multilingual support (Japanese, English, Chinese, Korean)
Scope of delivery

F-74 Meter
electrode stand
protection cover
power adaptor with 6 plugs
data acquisition software in USB
9615S-10D - refillable, glass-body pH electrode with integrated temperature sensor, 1m cable, BNC & phono jack
3552-10D - Platinum/Platinum black, glass-body k=1.0 conductivity cell with integrated temperature sensor, 1m cable, BNC & phono jack
502-S - each 1x pH 4.01, 7.00, 10.01, 3.33M KCl solution (250 ml)
503-S - each 1x 84µS/cm, 1413µS/cm, 12.88mS/cm & 111.8mS/cm conductivity standard solution (250ml)